Looking for a gift for a friend or loved one who has already read everything? Luckily, there are plenty of great gifts the readers in your life will love besides actual books! *UPDATED FOR CYBER WEEK*
1. Reading Log Journal
This is the perfect gift to help a book lover keep track of all the books they read in a year and plan reviews! I loved the format of this reading log I used for the first 100 books I read this year. When I filled it up I decided to try a different book review, but I wish I had bought another one of these! This journal is available with a variety of cover art, and it's at a great price!
SmART bookx Reading Log ($5.49 on Amazon)
2. Book Sleeve
Book sleeves are a total game changer for travel or simply taking a book with you wherever you go. Like a giant padded pocket, book sleeves protect your books from damage on the go so you can throw a book in your bag without worrying about bent pages, and they come in so many cute colors and patterns! So many talented artists sell book sleeves on Etsy, but I'll link some of my favorite shops.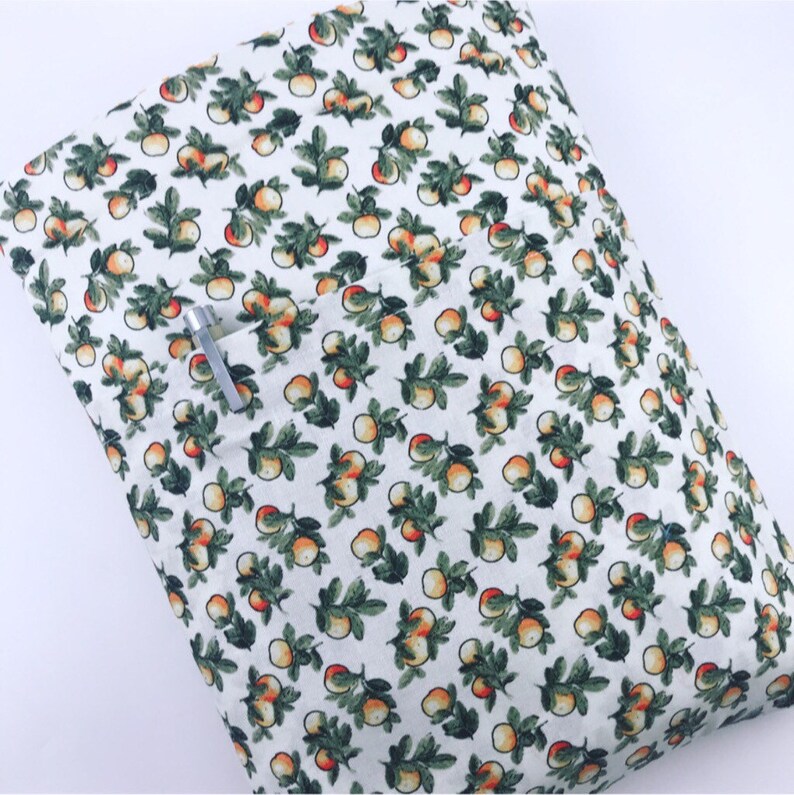 HappyGoLovelySleeves (pictured; MAXI $25; MIDI $22; MINI $20)
TheFunSizeReaderShop (JUMBO $25)
CreatedbyRae (Large $17.50; Medium $15; Small $10)
3. Reading Light
Clip on book lights have come a long way since the ones I used as a kid that ran on hard-to-replace batteries and lightbulbs. My current book light is rechargeable with a USB cord and has three brightness settings! Perfect for reading in bed without having to leave all the lights on.
Vekkia/LuminoLite Rechargeable 7 LED Book Light (black $15.99 on Amazon; price varies by color)
4. Book Weight
This is on my Christmas wishlist this year. The BookBone is a weighted rubber bookmark that holds book pages open hands free. Pick one in your book lover's favorite color to make reading so much easier!
BookBone ($14.95 on Amazon)
5. NOVELOGUE
The NOVELOGUE is an interactive, scratch-off poster that is part reading log, part bucket list, part artwork. It features 100 epic reads of a lifetime covered in gold foil that can be scratched off after you've read the book! Mine looks amazing hanging on my wall with magnetic frames, and it will encourage me to read more classic and popular books so I can reveal another book cover!
NOVELOGUE (on sale for $29.90 from Been There Done That)
6. Book Cart
A book cart is a perfect solution for overflowing bookshelves. I use mine to organize my unread books, and it's a great focal point in my living room since my bookshelves are out of sight. I get asked about my lattice book cart every time I post a picture of it on Instagram, but there are more affordable options out there without the pattern.
DOEWORKS 3-Tier Mesh Metal Utility Cart ($56.99 on Amazon)
7. Bookmarks
Save your reader friends from using receipts, gum wrappers, clothing tags, sticky notes, and whatever else they can find to save their place in a book! I always appreciate an actual, beautiful bookmark. There are so many cute bookmark shops, so I'll share a few of my favorites and recommendations from my followers.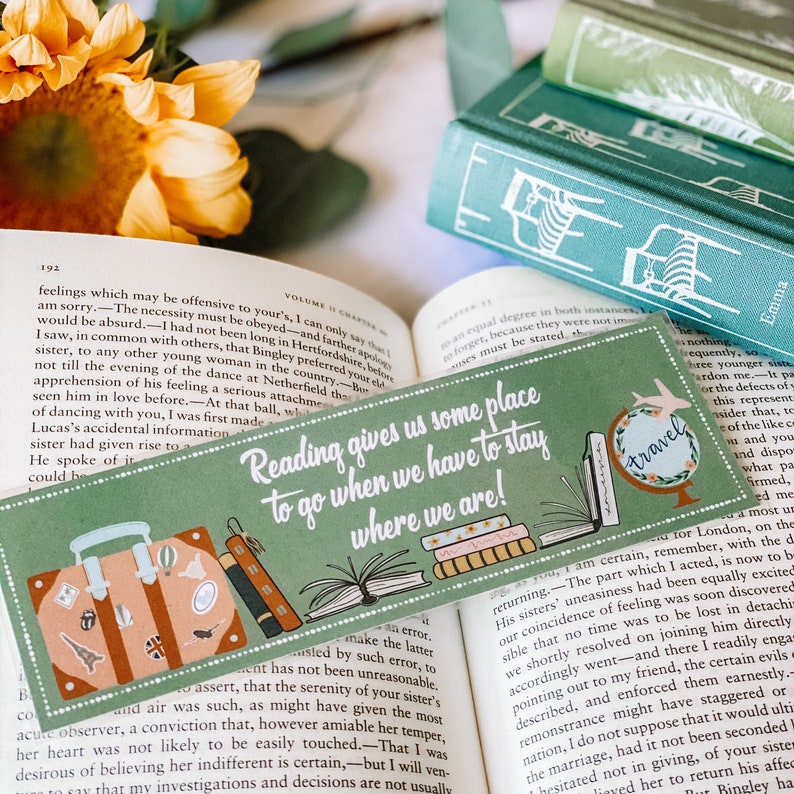 LaurenNaylorDesignCo (pictured; $6 bookmarks)
Emily Cromwell Designs (bookmarks starting at $2.70)
Alicia Marks It (bookmarks starting at $2.80)
Brown Paper Bunny (bookmarks starting at $4.80)
8. Clothing
Impress a reader in your life with a piece of clothings that reps their favorite book or their love of books in general. I have purchased bookish t-shirts, sweatshirts, and baseball caps, and I love the unique designs that I can find on Etsy and other bookish shops. I'll share a few recommendations from me and my followers.
Blissfully Bookish (pictured; t-shirts starting at $24)
Bookshelf Tees (t-shirts starting at $26)
RainandPickles (t-shirts starting at $18.10)
Out of Print (t-shirts starting at $30)
9. Drinkware
There's nothing a reader loves more than to curl up with a good book and their favorite drink, whether its coffee, tea, water, or wine. Brown Paper Bunny sells the cutest book stack coffee mugs (I have two), and Enchanted Fandom on Etsy sells a variety of drink vessels with book quotes and designs.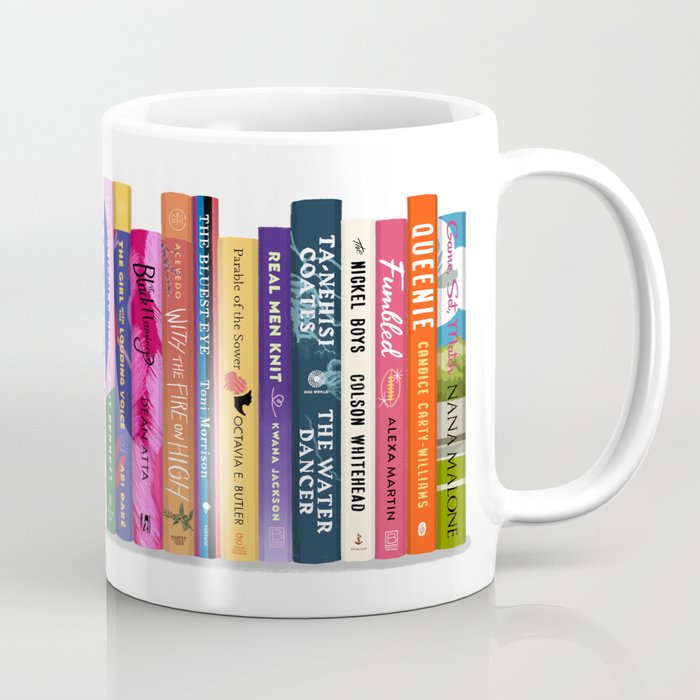 Brown Paper Bunny Society6 (pictured; 11 oz. $16.99; 15 oz. $19.99)
EnchantedFandom (wine glasses $15; mugs $10-11)
10. Candles
Another item going on my personal wishlist. I love to light a candle while I'm reading, and there are so many candlemakers who sell candles with scents inspired by characters. I haven't yet bought one myself, but Wick & Jane and Wick & Fable candles come highly recommended. I'm planning to treat myself to one for the holidays this year!
Wick & Jane (various sizes starting at $10.50)
Wick & Fable (4 oz. candles $13; 8 oz. candles $25)
11. Art Prints
Some of my favorite pieces of decor that I own are prints of character art or quotes from my favorite books! While larger prints can be pricy, smaller prints like 5×7 are very affordable.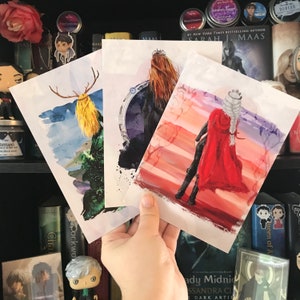 BookishStuff (pictured; 5×7 mini prints $4.25; larger prints starting at $18.00; Cyber Week mystery bags $12.00)
ForTheLoveOfBookShop (book page quote prints starting at $10.95)
12. Stickers
An easy way to show off a love of books is by adding cute and affordable stickers to laptops, tablets, water bottles, book carts, and more! While several of the shops I shared above sell stickers, I am most excited for my order from BookWorkStickerCo to arrive!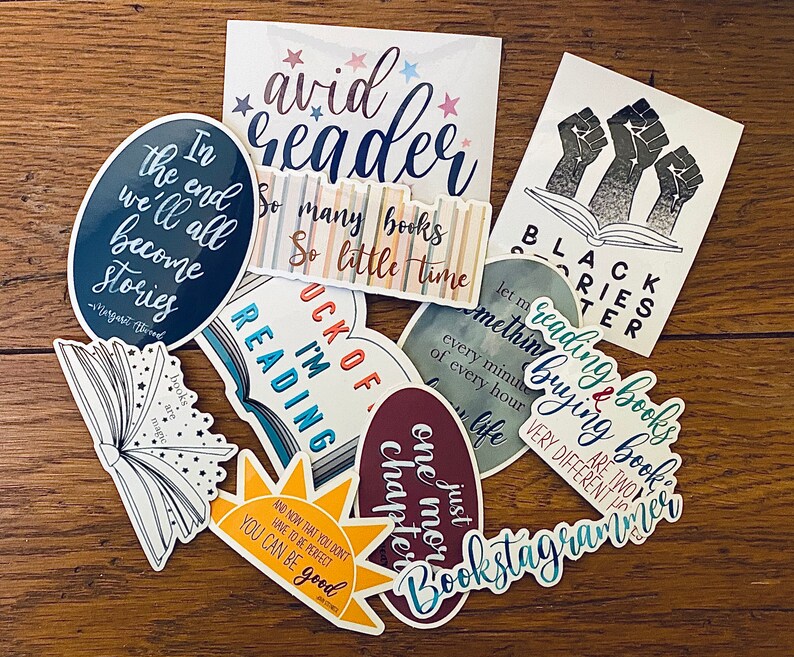 BookWormStickerCo (stickers starting at $2; bundles starting at $7)
---

I hope this gift guide is helpful for yourself and the readers in your life! Happy Holidays and happy shopping! Comment if you find my suggestions helpful or to share a favorite product that didn't make it on my list!